Learning About Chakras
By Author Jenney Clark. 
According to Hindu, tantric or yogic beliefs and practices, "Chakras" are enormous pools of energy centre points located within the human body.
Chakras are essential to our spiritual and psychological development. The very quality of our sacred existence and growth is linked to it. The "chakra" literally translates to "circle" or "wheel." Chakras are believed to be located in the spiritual, or subtle body, rather then the physical.
They can be found at the major plexus points of the arteries, veins and nerves. Chakras are in possession of energy channels called the nadis, through which our life force called the prana or qi flows.
Each Chakra is interconnected, herefore any imbalance in one chakra can inadvertently affect the other chakras and sometimes cause physical ailments. When you learn to align your chakras you can heal yourself and this is chakra healing.
"There are 7 chakras in all" 4 in the upper body and 3 in the lower body.
Root Chakra

(muladhara chakra) located at the base of the spine.

Sacral Chakra

(svadhisthana chakra) located in your pelvic "passion" centre.

Solar Plexus

Chakra

(manipura chakra) located at the power centre solar plexus.

Heart Chakra 

(anahata chakra) located in your love centre, the "heart".

Throat Chakra

(visuddha chakra) located in the region of neck and shoulders.

Third eye or brow chakra

(ajna chakra) located between your brows above the base of your nose.

Crown Chakra

(sahasrara chakra) located at the crown of your head.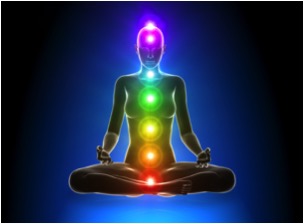 There are many places you can learn more, the best would be to visit your local Yoga Studio and ask if they are teaching Kundalini Yoga? or any other yogi teachings that focuses on working with your chakras.
-Namaste